In light of cruddy things that are happening in my industry lately, I decided to have this post be about some cycling related things that are fun, happy, and decidedly unique - not to mention made by creative people. Plus, it's Friday night, and I need something besides chocolate cake and alcohol to cheer me up after these crazy couple of weeks.
The first thing on my niftylist are these fantastic little reflectors made by Etsy artist Yabettasupadont, who decided that the regular reflectors were boring and something needed to be done.
This incredibly talented artist can make these reflectors in just about any design, any color, and any size, and they last just about forever. I've had mine for two years now, I think. The reflectors sit comfortably on your seatpost, or backpack, or anywhere really, and are waterproof and pothole proof for as far as I've found.
The gnarliest carpet.
Here in California, reflectors are required, and besides - a little more visibility is always a good thing.
Keeping with the theme of visibility, another Etsy seller, Cyclesign, combines two of my favorite things into one functional (and awesome) purpose: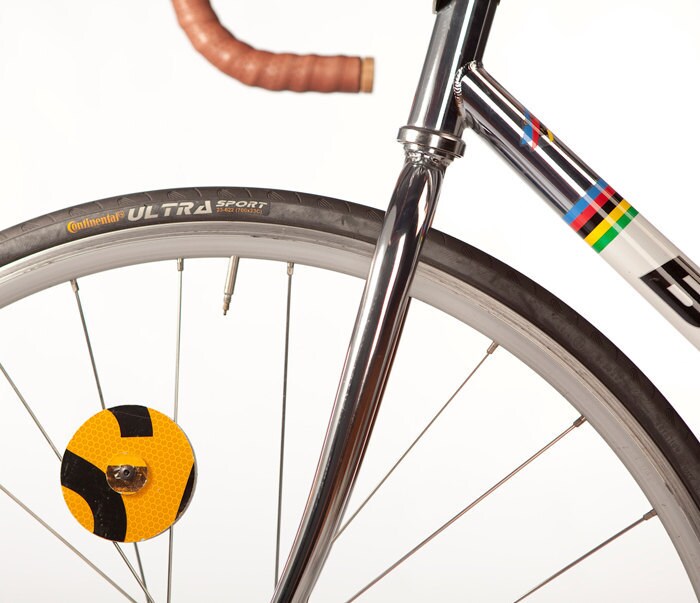 Road signs? In

my

bicycles?

Where do I sign?
Recycled road signs are given new life in the shape of bicycle reflectors, which are available for either your wheels or the front and rear of your frame. I know you roadies out there must think I'm nuts for supporting reflectors being added back into the spokes, but the commuter in me is squealing with joy, and the road sign collector in me has transcended into a new state of euphoria.
I just discovered these, and don't have one quite yet, so I can't quite speak to their durability. They seem like a clever idea to me, but I might be biased.
Moving into the category of shiny things for you (but still bicycle related), a friend of mine sent me the link to an artist who has a clever way of recycling old chains: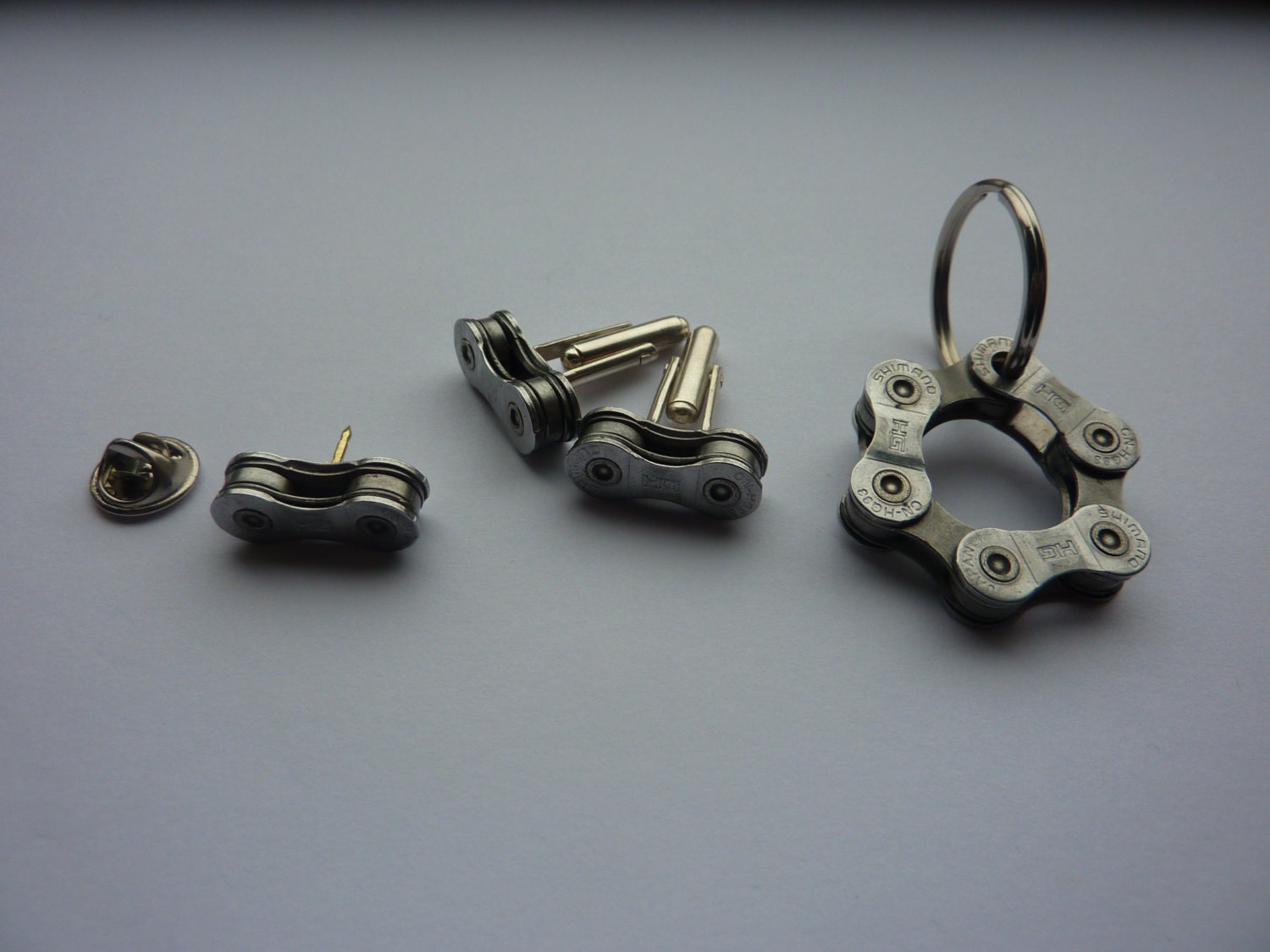 Now I wish I wore cufflinks.
Belatyre makes these snazzy cufflinks and delivers them to you in a rather smashing package, complete with a keychain made out of a recycled tire. I bought some Dura Ace cufflinks for a friend of mine, and was impressed with the quality and the friendliness of this artist.
Last, but certainly not least, Uncommon Goods has a whole slew of fun and funky bike gadgets. I received one of these ornaments for Christmas (oddly enough, I was also trying to figure out how to make them at the time!) and had to go see what else was being offered from this site.
I got the red one.
Whether you're looking for housewares, art, jewelry, or something completely different, there are lots of cool things being offered here, and many of them are recycled.
If you know of other cycling related gifts, gadgets, or cool ideas like these, share 'em!